Did you Know?
The average individual waits 11 years to get mental health support and services. You don't have to wait!
Call 419-756-1717 between 7:30am – 9:30am, Monday through Thursday, for Open Access! If you are in need of Mental Health or Substance Use Services, Open Access will allow you to be assessed by a Clinician that very same day!
To learn more about our Open Access hours click HERE.
---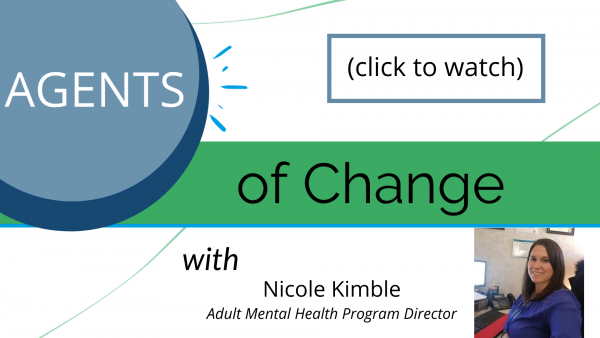 Nicole Kimble, the Adult Mental Health Program Director, shares about the mental health services offered by Catalyst and why it is important to bring awareness to mental health during mental health month and beyond.
---
Wellness Wednesday
---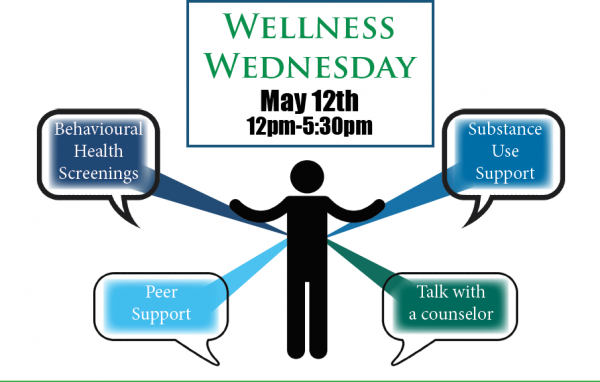 This event is open to the community and is entirely free! Come to the event if you are:
– Looking for mental health supports or desiring to maintain wellness
– Curious about telehealth services
– In need of support for family members
– Interested in vocational services
– Interested in substance use treatment options
Narcan Training: 12:45pm & 4:30pm
**Dr. Bocka and Catalyst staff will be presenting hands on Narcan training with kit, answering questions about addiction, and providing hope.
Free COVID Vaccination Clinic: 12:00pm – 4:00pm
**the vaccine clinic will have an ASL interpreter available for the entire time.
*Parking is in the back of the building.
For questions or to RSVP for the Narcan training, call 419-774-6710
---
Open Interviews for Counselor Assistants
---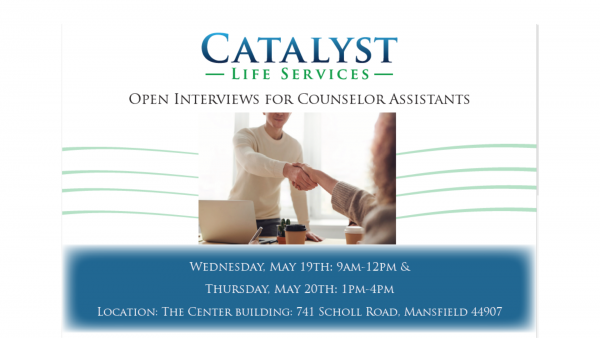 Catalyst Life Services is expanding their services and has increased opportunities for Counselor Assistants. These positions are ideal for individuals looking to grow in the field of mental health and drug and alcohol services. Under general supervision, the Counselor Assistant provides crisis intervention, phone services, initial access
services and mental health/AOD assistance (including monitoring self-medications and daily living skills) to clients in our residential treatment facilities.
Our Counselor Assistants receive extensive training, coupled with hands on learning from highly experienced Counselors and Therapists. Training dollars available to assist individuals with obtaining their CDCA.
Full-time, 40 hour a week positions are available, as well as part-time positions.
Shift differential is given for 2nd and 3rd shift as well as on the weekends.
*Qualifications: High school diploma, auto insurance, and an Ohio driver's license with an acceptable driving record required.
If you are interested but unable to attend either of the open interview
slots you can call or email:
Trena Jacobs @ 419-756-1717
trena@catalystlifeservices.org
or
Mandi Whitlatch @ 419-526-6102
mandi@catalystlifeservices.org
---
Mental Health for Deaf & Hard of Hearing
---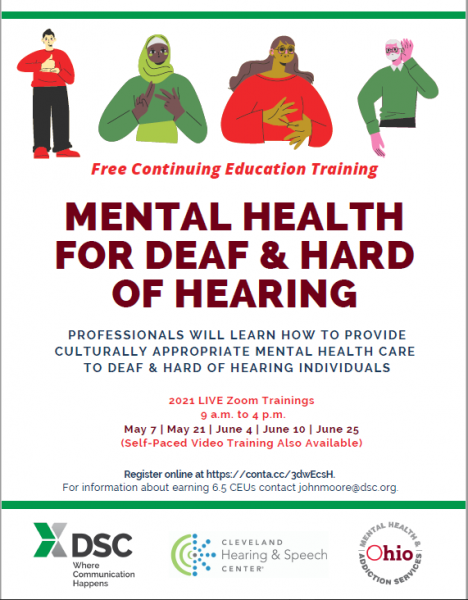 Free Mental Health/AOD training opportunity on live webinar on the following dates: 5/7, 5/21, 6/4, 6/10, 6/25.  The training, Providing Culturally Appropriate Mental Health Care to Deaf and Hard of Hearing Individuals was made possible by a grant through the Ohio Department of Mental Health.  This training has 6.5 CEU's.
---
Community Support
---

Congratulations to our vocational department for once again being awarded the Workforce Innovation Opportunity Act (WIOA) contract for youth services. These funds, totaling over $353,000, go toward helping youth with barriers reach their employment and educational goals.
Click Here WIOA Richland County on Facebook
We are so proud of our vocational department and all the amazing work they do!
---
Stay Safe Together
---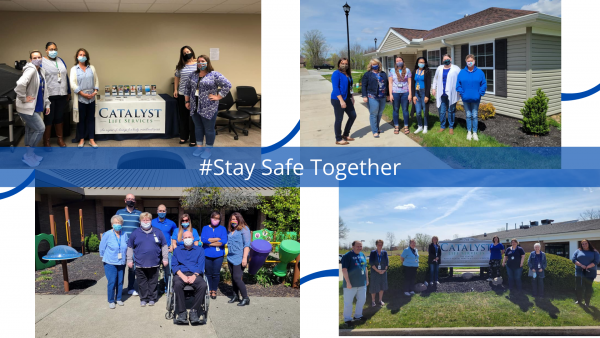 Catalyst staff wore blue to work on April 14th in support of April being National Child Abuse Awareness Month.  Richland County Children Services theme this year is "Staying Safe Together". The most important thing we can do to help children thrive is to support families before they reach a crisis.