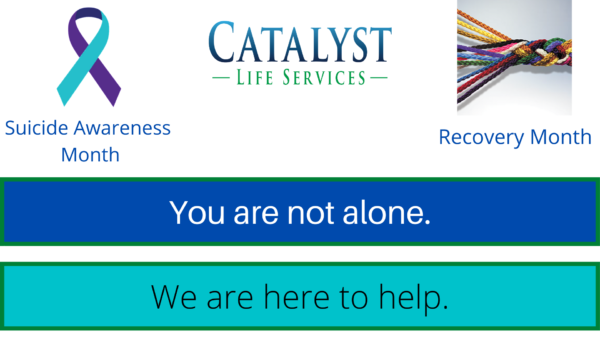 Did you know?
Individuals with substance use disorders are particularly susceptible to suicide and suicide attempts. Indeed, suicide is a leading cause of death among people who misuse alcohol and drugs. Substance misuse significantly increases the risk of suicide. Approximately 22 percent of deaths by suicide involved alcohol intoxication. (SAMHSA)
Catalyst Life Services specializes in dual-diagnosis treatment.
If you can benefit from this treatment call our 24/7 Helpline at 419-522-HELP.

---
Agents of Change: Virtual Recovery Run
---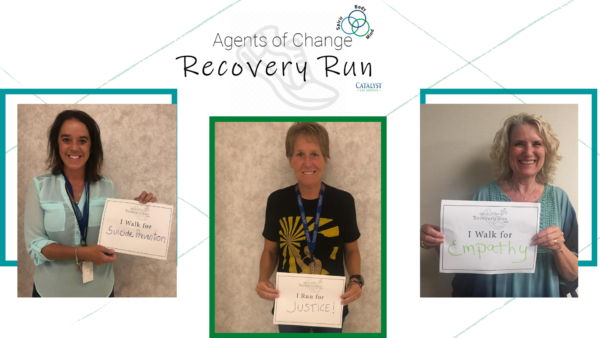 September is Recovery Month!
Be one of our "Agents of Change" by participating in our Virtual Recovery Run, happening all month long! You can be the difference that makes recovery possible.
Click here to learn more!
---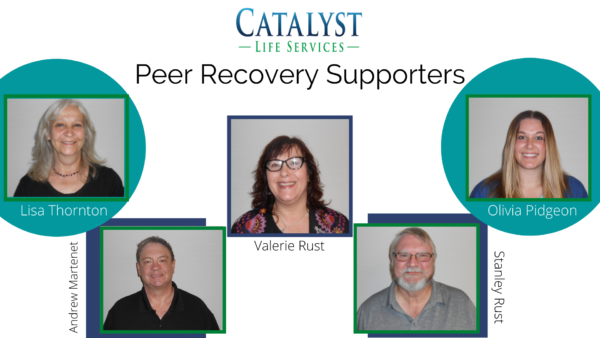 Peer Recovery Supporters are individuals who have been in recovery for a number of years and have been certified to help support others who struggle with addiction.Our amazing Peer Supporters share what helped them the most in the early stages of their own recovery.
Click here to see what they shared!
---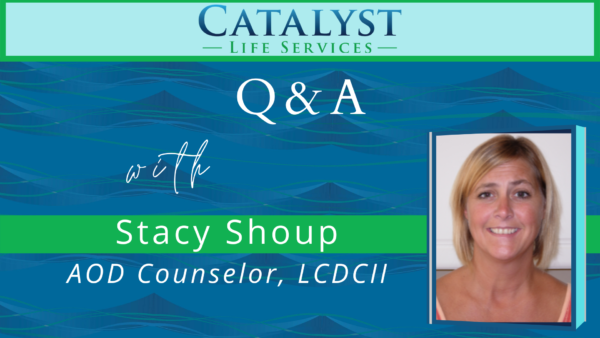 Q&A with Stacy Shoup

Q1: What is your title and how long have you worked at Catalyst?
I am an AOD Counselor (LCDC II) at the Men's Residential facility. I have worked at New Beginnings/The Rehab Center/Catalyst Life Services for 29 years full time on Oct. 3rd.
I started as a case manager in our all female residential facility (at the time was adult and adolescent females) and then worked to obtain my LCDC II.
Q2: In a few sentences, can you explain what your role at Catalyst consists of?
Currently I am the Male Counselor. I do everything from Intensive Outpatient Treatment (IOP) 5 days weekly, to individual sessions, some case management and all clinical documentation to include completing and submitting ASAM levels of care (LOC) to insurance companies for approval. I work closely with the house manager to address any presenting issues as it pertains to the consumers along with review of admissions, discharges and transfers in LOC.
Q3: What do you like the most about your job?

What I like most about my job is seeing our consumers make lifestyle changes, getting to know them as they learn about themselves and understanding them and their needs and how I can help them help themselves, everyday is different.
Q4: What does the word, 'Recovery', mean to you?
The word recovery to me means empowerment, growth, and change.
Q5: What do you think stops people from getting the services they need for addiction?
The stigma regarding Addiction/Mental Health can be a barrier to treatment. I also think family members and their lack of knowledge and or compassion, as well as the person themselves. I also believe that a lack of resources for the consumers stops them. I am hopeful that with telehealth more consumers are able to seek services and or stay engaged in services
Q6: What positive changes do you hope to see in the future for those who struggle with substance use?
Positive changes I hope to see is the consumer being able to get the services they need for as long as they need them without Managed Care Companies dictating what they need and for how long.

---
Suicide Prevention Awareness
---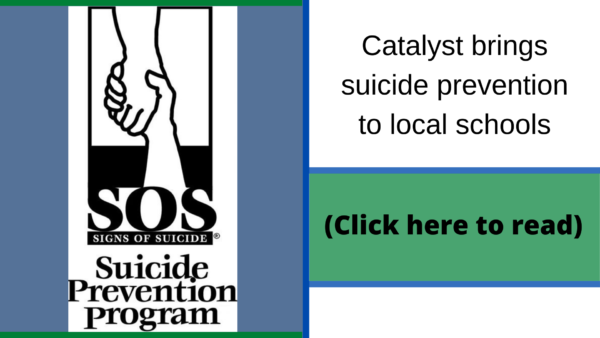 ---
Community Support
---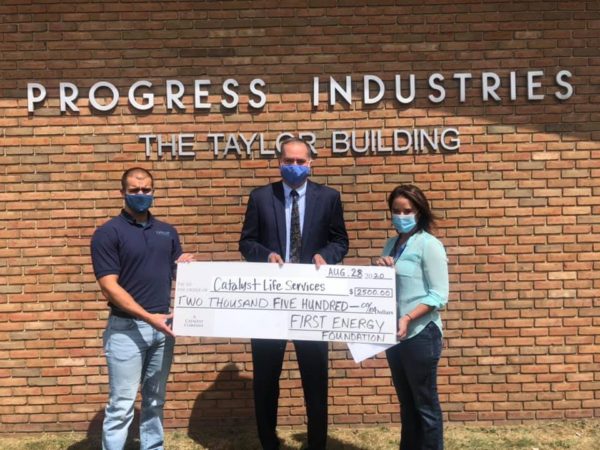 We are so grateful to Joe Jakubick with First Energy Foundation for presenting us with financial support for Progress Industries / Catalyst Life Services.
The money will go to fill in funding gaps for clients with barriers to employment.