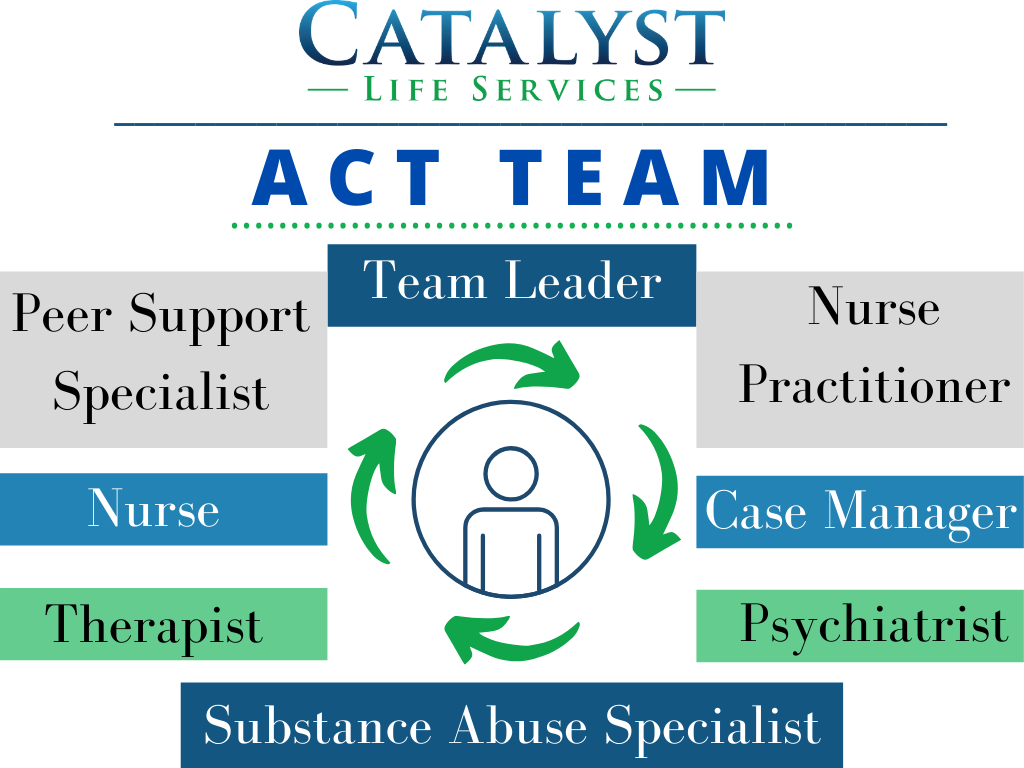 ---
ACT (assertive community treatment) is an intensive wrap around team that consists of a team leader, therapist, case manager, substance abuse specialist, peer support specialist, nurse, nurse practitioner and psychiatrist that all work together to provide services to clients with a psychotic disorder that many also have substance use disorders.
These clients have struggled with traditional treatment services and often experienced frequent hospitalizations, legal issues and homelessness. Many struggle with meeting basic needs in the community without these intensive services. The team meets daily to review the current 44 clients on the team and provides frequent services to these clients to help assure stability and assistance to hopefully decrease struggles in the community.
---
Let's hear from some of the ACT Team Members!

Q1: What role do you play on the treatment team of ACT?
Carrie: I am the ACT RN. I would say my main role is that of an educator. I want my clients to be educated on issues regarding their health and well-being. It is importance for anyone taking a medication to know why they take the medication and the potential side effects of the medication. The more they know about their medication and how it helps them and works within their body, the more likely they are to keep taking the medication. I also do education on various health topics such as hygiene, nutrition, and sleep. I also assist clients with filling medication bins in order to help them maintain medication compliance and I administer injections as prescribed.
Q2: How long have you worked in this role?
Carrie: I have been in this role since January 26, 2018, so a little over 2 years.
Q3: What do you enjoy most about your job on the ACT team? What drew you as a nurse to this position?
Carrie: I love the variety of individuals I get to work with. From individuals in their early 20's, clear through to 60+. Our team gets clients from all walks of life and in all stages of serious mental illness. I have always had a passion for mental health. There is a huge stigma attached to individuals who have a serious mental illness and I feel like sometimes they get lost in the system. Being on the ACT team allows me the opportunity to assist individuals in maintaining their independence and the ability to function within society.
Q4: What is unique about the ACT services Catalyst provides? Can you share how being a nurse for this team is different from working as a nurse somewhere else?
Carrie: Working on an ACT team is unique in every way! We work with individuals who have a serious mental illness, such as schizophrenia or bipolar disorder, and need assistance with being able to maintain their independence. As part of an ACT team, an individual has access to nursing, case management, individual therapy, group therapy, peer support services, substance abuse services, and vocational services. Our team members work closely, with one another, to provide continuity of care for the individuals we serve. This field of nursing allows me the opportunity to meet the client where they are in life. I have to maintain flexibility with my approach to care and be able to adapt to frequent changes in situations. For example, if one of my clients call and is having a bad day and doesn't want to come into the office to get their medication, I have the ability to go to their home to give it to them. This flexibility is so important for my clients. Helping my clients stay well is my number one priority.
Q5: Can you speak about the importance of medication in regards to this team and how it benefits clients?
Carrie: Medication plays a huge role in assisting our clients to maintain their independence. The bulk of our individuals would not be able to function successfully within the community without routine medications. My goal is to assist the individual in understanding and accepting the importance of medication and the role it plays in their life.
Q6: Is there anything else you want to share about ACT?
Carrie: ACT is such a unique program. The services we provide to individuals, on a daily basis, allow them to be productive members of society. We have an amazing team, full of knowledgeable providers, who are passionate about helping the individuals who require the most intensive wrap-around care.
---

Q1: What role do you play on the treatment team of ACT?
Nick: The role of Peer Support Specialist on the ACT team has many parts. I am typically the first to try engaging with the client and build some sort of trust and rapport. It is my job to initiate contact with newer clients specifically and let them know what all we offer or how we can assist them. Many of the ACT clients reach out to myself for needs such as transportation, paying bills, shopping and cashing checks.
Q2: How long have you worked in this role?
Nick: I started as the ACT Peer Support Specialist in September. I was immediately welcomed into the ACT team and have built a professional relationship with the majority of staff and clients.
Q3: What do you enjoy most about your job on the ACT team?
Nick: I enjoy the sense of accomplishment I get seeing a client who started with no direction and is now thriving.
Q4: What is unique about the ACT services Catalyst provides?
Nick: The ACT services is unique due to the level of wrap around care and ongoing support we offer our clients.
Q5: Can you speak to the importance of the peer support on this team?
Nick: Peer support offers something unique to a client that a case worker cannot provide. To be a licensed peer supporter, you have to have some sort of personal background with mental health or addiction. Because of this, peer support is able to connect more closely with a client due to having been there themselves.
Q6: Is there anything else you want to share about ACT?
Nick: From my short time with the ACT team, I have seen many of the clients lives change for the better.