Did you know?
Did you know that American Sign Language grammar is more similar to French than English?
---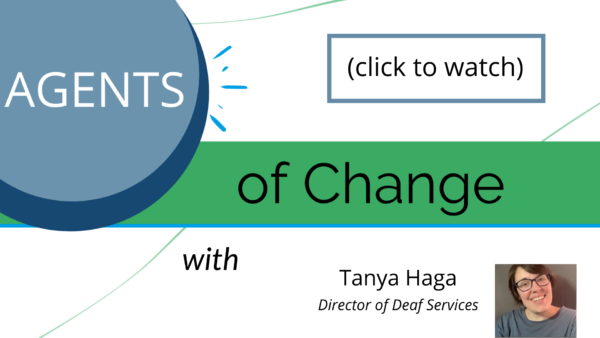 Tanya shares what Deaf and Hard-of-Hearing Services is all about and the many services that are provided! 
She also shares how Catalyst Life Services combats the stigma associated with an individual's hearing ability.

Click the image above to watch!
---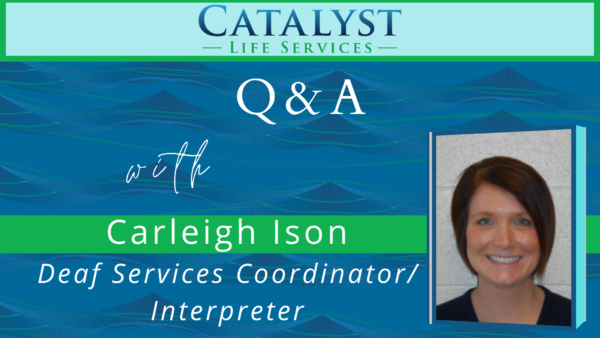 Q1: What is your title and how long have you worked at Catalyst? 

My title is Deaf Services Coordinator/Interpreter. And Sept 15th will be 12 years.   

Q2: Can you tell us a little bit about the services you provide to clients? 

Deaf services has always provided interpreting, Advocacy/Education, Leadership, Support Services and Summer Youth programming (until this year we took a break due to the lack of kiddos in our area).  

Honestly we do just about everything we can to assist our clients.  Sometimes that doesn't fall under any of the categories that I mentioned. For example, a client, that has since passed; brought his entire fax machine into the office one day for me to fix it.  If anyone knows me I am not the person to ask to fix anything electronic. All I did was plug it in and turned it on and it seemed to work and he was pleased. He took it home and that was that. 

Deaf Services now offers a few extra programs such as WIP, Case Management & Pre-ETS.   

Q3: What might a 'typical' day look like to you as an interpreter? 

There truly is no "normal" day for interpreters. My day can be set when I leave for the day and by the time I wake up my entire day could be different. Maybe I had some office time and then a few medical appointments and some more office time scheduled.  Then I could have gotten a call that was we need an interpreter all day for a work training, or an emergency surgery. Or I could have gotten called out in the middle of the night. I've left work literally pulled in my drive and received a call to go back out. I later arrived home from that call and got another call less than 1 hour later and had to go out again. Arrived home AGAIN (lol) slept few a few hours and got up for my normal day.     

Q4: What is one of the most unique interpreting experience you've had? 

One of the most unique experiences I've had was when I first started interpreting and interpreted my first C-section. As an interpreter, you really have to have the stomach for anything and everything.  It was me having to relay every moment that was happening.  From the first time the doctor was making his incision, to what I was seeing and what the nurses and doctor were saying. Letting her know that they were pulling her child out and what that looked like. Sewing her up and keeping her updated with her child's status as they cleaned and checked the baby. Imagine being strapped down to a table and not being able to hear a sound, or see what's happening because there is a sheet up in front of you. Weird, right? That's the exciting part for me. Knowing we as interpreters give them the experience they should have. The communication.   

Q5: What do you think is something most people do not know about Deaf Services? 

People truly have no clue how much work goes into scheduling for 9 counties.  The coordination of which interpreter can go to what assignment. Navigating time frames of the appointment and travel time. What if the appointment goes longer than expected? What if an emergency gets called in? What if one of the interpreters has to leave because they are sick? So many factors can change our day in a second. I know I constantly inform entities that we cover a large area and we are not always available last minute. However, over the years there has not been much we have not covered. We work hard to accommodate all the assignments we can.  
---
Meet the ASL Interpreters!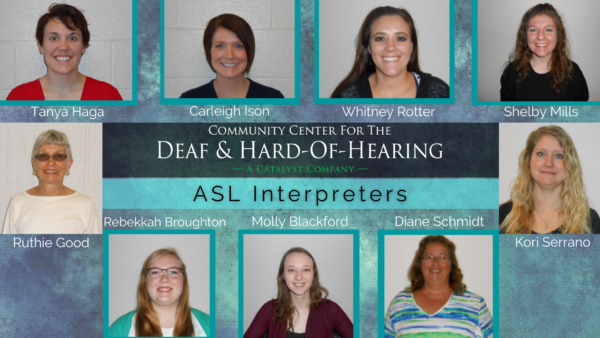 ASL Interpreters share their favorite part of their job at Catalyst Life Services!
"My favorite part of being an interpreter at Catalyst is that every day is different so I never get bored and I can always improve."
-Tanya Haga
"My favorite part of being an interpreter is working in a variety of settings with people of all ages."   
– Ruthie Good
 "The best part of being an interpreter for me is the way we can bring light to a situation whether it be a medical issue or mental health issue by finding conceptual ways of bringing that 'aha moment'."   
-Kori Serrano
"One of my favorite parts of being an interpreter is the variety of assignments, it keeps me on my toes."    
-Carleigh Ison
"My favorite part of interpreting is getting to work in a variety of different settings and with different people every day."   
-Whitney Rotter
 "My favorite part of being an interpreter is that I am always learning new things."   
-Shelby Mills
  "My favorite part is getting to meet and help communicate with a variety of different people in a variety of different circumstances."
-Molly Blackford
"My favorite part of being an interpreter is knowing that I've turned confusion into understanding by using a person's preferred language so they don't have to work as hard to communicate."
–Diane Schmidt
"My favorite part about being an interpreter is experiencing all of the diverse and unique situations that I encounter and expanding my horizons by learning a little bit about all of the different things that I can."
-Rebekkah Broughton
---
Language Access: COVID-19 Impact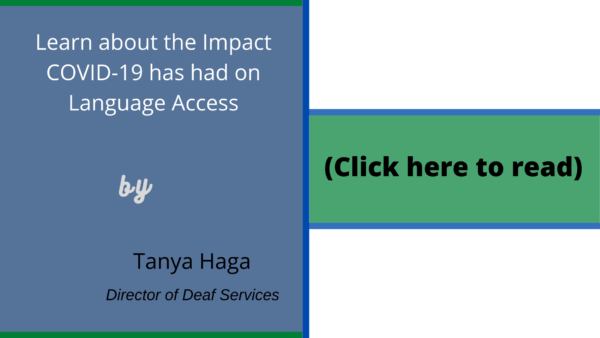 ---
Stay in touch with the Community Center for the Deaf and Hard-of-Hearing!
---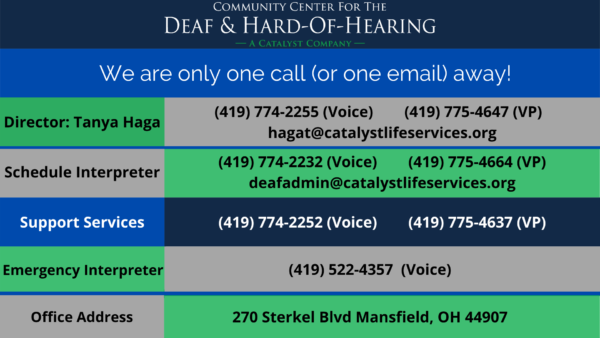 ---
News for Recovery & Addiction Services