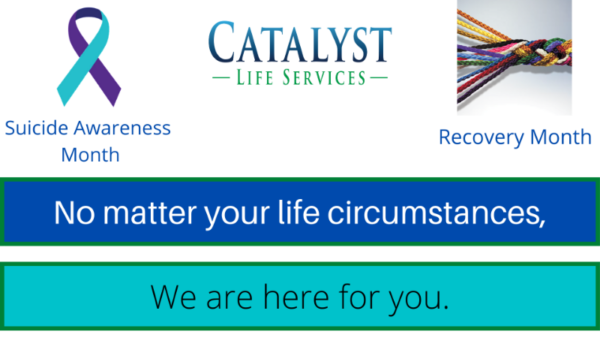 Did you know?
Last year, approximately 2,089 individuals were receiving treatment in Richland County for an Opiate Disorder.
The Richland County Opiate Board was formed to develop a proactive response to the Opiate Crisis in Richland County by reducing the fatal consequences of opiate abuse through education, response teams, and assistance in finding treatment.
Click below to read about this task force and the collaboration of 5 separate agencies, 3 Law Enforcement Agencies and other Departments that are a part of this Board as needed.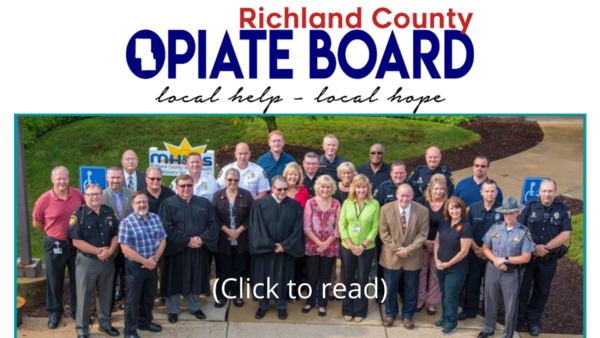 ---
Agents of Change: Virtual Recovery Run
---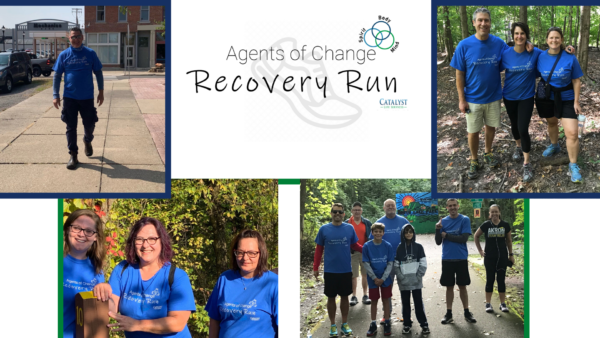 Recovery Run Update!
We are so grateful to the community as they participated in this month's Virtual Recovery Run. Today, we announced our current monies raised, weekly winners and the 1st and 2nd place winners of the 5k. To learn more go to our Facebook Live recording here and click the image above to view photos of all Recovery Run participants thus far.
We are excited to announce we have extended the Recovery Run to October 14th due to many individuals who still wished to participate. To hear from several individuals and teams who participated in the Recovery Run click here to read the Richland Source article.
---
Click the image above for the Voices for Recovery video featuring our Substance Use Treatment Professionals. 

These amazing individuals work hard to promote recovery, inspiration and hope!!
---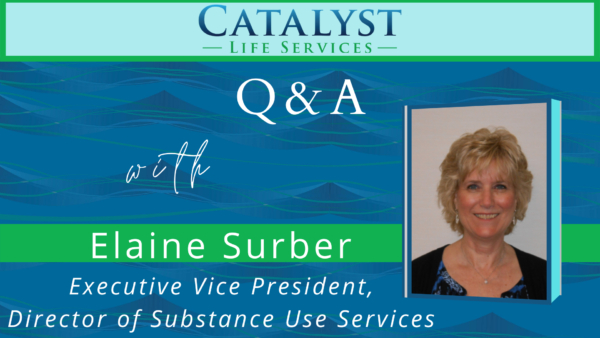 Q1: What is your title and how long have you worked at Catalyst? 
I am the Executive Vice President/Director of Substance Use Services. I've been employed with Catalyst since December 2010.

 Q2: Why do you have a passion for helping those who struggle with substance use/addiction and mental health issues? 
 My professional career for over 35 years has been focused on helping people to explore their potential.  The adolescents and adults I've had the privilege to serve didn't set out to purposefully disrupt their lives, the lives of people they love, or give up on their hopes and dreams.  My passion for helping others comes from a place of empathy, acceptance, and caring as people develop the strength to become the best possible version of themselves. 

Q3: In a few sentences, can you share how Catalyst can help someone who struggles with substance use? 
Sometimes when people lose hope, it becomes very difficult to know where to turn for help.  Making a phone call to our 24 Helpline at 419-522-HELP (4357) begins the process.  Each person meets with a therapist to develop their personalized treatment plan.  We offer a full continuum of care.  We provide withdrawal management services, stabilization services, residential, individual and group counseling, medical services, case management, peer support, vocational and access to housing.  The Catalyst safety net can provide a high level of structure to minimize mental health issues, environmental triggers, and reduce or eliminate contact with drugs and alcohol.  At Catalyst, we treat each individual with respect and dignity. 

Q4: What is something about addiction/substance use that you think many people don't know? 
We know that trauma can be a contributing risk factor in the development of a substance use disorder.  Many individuals with substance use disorders use alcohol and other drugs to self-soothe and help decrease symptoms of anxiety, guilt, shame, fear, irritability, anger, insomnia, depression, loss of appetite, and inability to concentrate.  Access to treatment programs, medications, 12-Step and faith based programs, and other treatment options give people choice in how they want to pursue their recovery.  What I want people to know is that so many people take dramatic steps to turn their life around and become active participants in their personal change process.  Seeing people discover their true potential is beautiful.  
Q5: What does the word, "Recovery" mean to you? 
Recovery is an individual journey. Each person defines what recovery means to them by exploring their desires, values, family situations, social circumstances and lifestyles.Life in recovery is about more than just avoiding drugs and alcohol for the rest of your life. The journey is an ongoing process of growth and healing that is physical, mental, and spiritual.     
Q6: What would you say to encourage someone or a family member who is struggling with substance use? 
Helping a friend or loved one struggling with addiction can sometimes become a long and heartbreaking journey. There may be times it feels extremely overwhelming and ignoring the situation seems like a good solution.  However, sweeping the issue under the rug can be damaging to you, your family and the person you're concerned about. As painful as it may be, it's important that you take the time to encourage your loved one to seek assistance.  Please remember, addiction is not a personal failure.  Don't give up; there is hope; get the help you deserve!
---
Recovery is Beautiful
---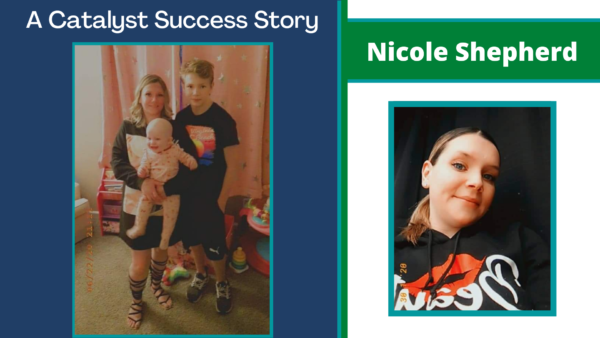 If you knew Nicole a year and a half ago, you may not recognize the happy, vibrant, mother of two today. She used to be in a dark place, struggling with addiction and stuck in a vicious cycle. Today – she is happy and loving life.
Nicole Shepherd shares her darkest moment in life on March 30th, 2019 when she overdosed. Thankfully, after she was checked out by hospital staff, she was stabilized and able to recover. However, the day had more unexpected news for Nicole as the doctor told her she was pregnant. Nicole was then rushed to Akron hospital to make sure the baby was unharmed. A short while later, she and the baby were given a clean bill of health and Nicole became a resident at New Beginning's at Catalyst Life Services.
At that time, New Beginnings was a 16 bed residential unit for both men and women who were struggling with substance use. As a resident of New Beginnings, Nicole was surrounded by all the services that was needed on her road to recovery. This included all services related to the mind, body and spirit.
Nicole stayed at New Beginnings for 6 months. While she was there she went to counseling, attended group therapy and learned the skills she needed to make sure she was set up for success. Catalyst also helped her to prepare for the baby that was soon coming. They made sure she would have all she needed when the baby arrived.
"I had been to Catalyst before in 2018. I was at the stabilization unit for 21 days to detox. But then I just went back to my old friends and situation and relapsed 8 months later," Nicole says. "This time I changed everything when I got home. It's a lot of sacrifices to leave friends but it's so worth it because now I am not just existing – I am living."
Nicole is now home and her baby girl is around 1 years old. She is healthy and beautiful and Nicole shares how much she loves being a stay-at-home mom. She also babysits and loves how much her life has turned around in just one and a half years.
"An addiction feels like a dark place where you can't see the light at the end of the tunnel. I used to be miserable. I hated myself and hated where I was," Nicole shares. "But now I am so very happy and I love life. That's something I thought I never could have."
Nicole is now in a good place to share her story and to encourage others in recovery to get the help they need to have the life they want. She shares that she has already encouraged a friend and guided her toward the resources and help she needed. It is hard to imagine what struggling with substance use is really like, unless you have experienced it yourself. Nicole hopes to one day be able to take her experiences and use them at Catalyst by working to help others on their own road to recovery.

---
Suicide Prevention Awareness
---
Did you know?
Law Enforcement is usually the first ones to respond and engage a person in crisis.
Crisis Intervention Team (CIT) Training helps to educate and equip Law Enforcement and First Responders to effectively approach mental health crises, emphasizes consumer and officer safety and helps to build and foster relationships between mental health agencies, law enforcement and individuals and families affected by mental illness.
Click below to read about CIT and the collaboration between agencies such as NAMI Richland County, the Sheriff's Department and Catalyst Life Services.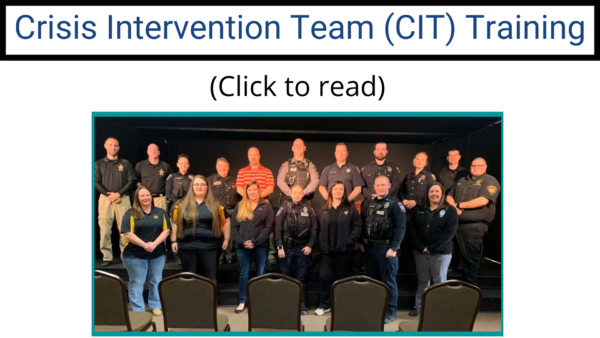 ---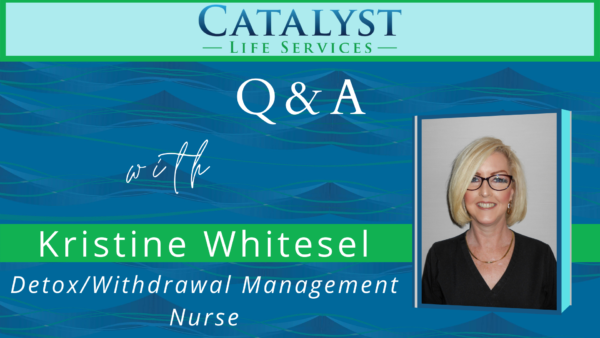 Q1: What is your role at Catalyst and how long have you been here? 
I am an LPN at our new Detox Facility and this Month is my one year Anniversary! 
Q2: In a few sentences, can you explain what your role at Catalyst looks like? 
My role at Withdrawal Management is hard to explain in a few sentences, but I help with the admission process of new clients, I obtain their vitals, medical and physical histories along with their substance use and work closely with our doctors so that our clients can get through the withdrawal process more comfortably and safely. I truly care about our clients and want to see them succeed and hope that while they are here they only have to focus on getting better.
Q3: What do you like most about your job?
One of my favorite parts of my job is the quality time I get to spend engaging with the clients in one on one or in groups, We might be doing Artwork, such as canvas painting or playing a game! But it's during those times that clients open up to me and tell me their stories! I'd also like to mention that I love that catalyst is pet friendly and has a process in place to incorporate being able to have a pet around our clients which has been really a comfort to our clients! I also have the very best co-workers!

Q4: Why might you encourage someone to detox/withdrawal at our facility rather than simply doing it at home?
I encourage anyone who anticipates going through the withdrawal process to come here, because it can be dangerous to do on your own and we will  help them through it with comfort medication. We also ensure that the client has a process in place for when they finish detox because detoxing is just the first step in recovery!
Q5: What are common barriers to treatment? 
Some of the barriers to treatment that we see with our clients is fear of the unknown and transportation issues, private insurance, and not realizing we are here! 

---
Community Support
---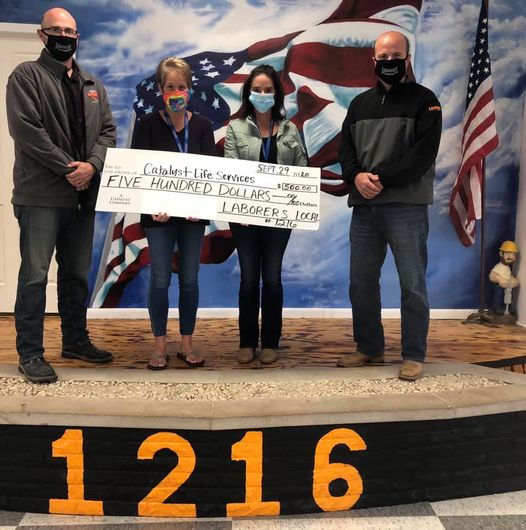 Thank you to the Laborers Local #1216 for your support of Catalyst Life Services! We appreciate the extra support through the Covid 19 crisis as we have had to adapt our service delivery and endure unexpected costs.