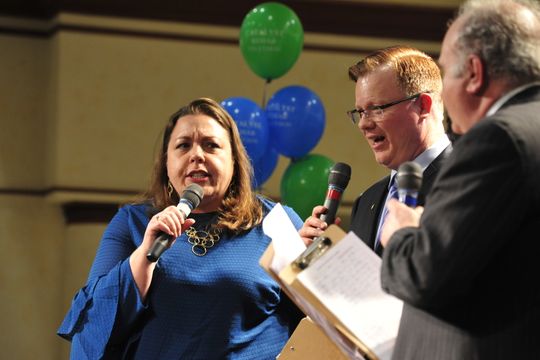 What does it take to pull off an all day Telethon full of live entertainment, rows of vendors, prizes,boisterous hosts and public guests? How do you encourage scores of people to donate their energy, talent, food and sponsorship to the tune of two million dollars over the course of 28 years? First, you have a remarkable community full of passionate individuals willing to put others' needs ahead of their own. Then, you build a non-profit agency capable of affecting thousands of people's lives through an array of mental health and well-being programs too broad to even list.
In short, you're an organization like Catalyst.
In the beginning, the Telethon was known as "The Rehab Telethon." First started by WMFD in 1992, its proceeds funded the operation of The Rehab Center which specialized in the rehabilitation of people with physical disabilities. Catalyst itself, is the 2010 merger of two previously well-known entities that served the community for over 65 years: The Center for Individual and Family Services and the aforementioned Rehab Center. It's comprised of four major departments: Audiology and Deaf Services, Vocational Services, Mental Health and Crisis Services, and Addiction Services.
The Rehab Center is now the hub for Child and Adolescent Mental Health and Crisis Services, Audiology and the Community Center for the Deaf and Hard of Hearing, and the Vocational wing—which includes Progress Industries and Precise Services. Just up the street, is "The Center," an expansive building housing Adult Mental Health and Crisis Services, The District V Forensic Diagnostic Center, residential programming, a stabilization unit, and outpatient drug and alcohol resources. It's a complex of buildings wrapping their way along Sterkel Ave. that also includes New Beginnings Residential Treatment Center and will soon include the only Drug Withdrawal Management facility in all of Richland County.
But, what, exactly, is Catalyst?
Catalyst are the liaisons that go into our schools and talk to our teens about the warning signs of depression and self-harm.
Catalyst is the specialist inside the Richland County Jail and courts assessing individuals for potential mental health or addiction issue so they can be helped and, maybe, just maybe, not end up in those situations again.
It's the 13 beds in the stabilization unit that have been a touchstone of hope for people in the midst of a potentially life-threatening crisis, all part of a broader program that provided close to 400 individual crisis assessments just this last year.
Catalyst are the sign language interpreters who showed up on short notice to the Ohio Attorney General training on domestic violence so that the three deaf social work students in the class wouldn't be turned away.
It's the single working mom whose car broke down in the middle of winter and was given a voucher for the repairs through the Catalyst affiliated program "Success Unlimited" run by the tireless Dan Dickman.
It is the only agency in Richland County that is the crisis response for children and adults. So if there are unusual, tragic, or traumatic incidents, or a massive emergency impacting the whole city, Catalyst, along with other first responders, would be on the frontline to help.
It's the 55 year old man who started using substances as a kid and, through repeated efforts of various Catalyst programs and staff members, now finally believes he can go after the life he's wanted for so many years.
And, it's the rehabilitated client who goes on to become a "Peer Recovery Supporter" shepherding others through their addictions.
It's the HELPLINE that's staffed 24 hours for anyone needing connection to services or just a sympathetic ear. (419-522-HELP)
It's this and so much more.
It's a place where you can find people like the Director of Operations, Erin Schaefer, who's visibly bothered when she learns a former client—a borderline homeless man—is now possibly missing, stopping in the middle of our interview to look out the snow-dusted window and worriedly say, "it's going to get cold tonight." And still there's even more, too much for the perfect elevator pitch.
As an agency employing over 300 people, maybe the best way to describe the organization is to say that if you are looking to improve your life, whether that means working through an emotional or substance use issue, or helping your children navigate the loss of a loved one, or reentering the workforce after a setback, or simply wanting to improve your hearing, then Catalyst is the one-stop shop to help you do just that or to connect you to the services that will.
The Telethon itself helps fund Catalyst's overall programs and services. 
As the new Vice President of Finance, Mary Pat Gebers, explains, "we are a true non-profit system, in that we get our money from Medicaid, grants, etc. Everything we do in this community, we do because we don't turn anyone away. Even if they can't pay, they can still receive services. What other agency can say that?" The money is a cushion that can be moved to wherever it's needed most, and according to Gebers, "it has made the difference many a year."
However, what is perhaps most unique about Catalyst is its continuity of services. For example, an individual who finds themselves in crisis may be placed by a Catalyst representative into the crisis stabilization unit and then, through the collaboration of their care providers and family members, moved to a facility like New Beginnings where they can focus on their treatment. Once they've worked through their immediate issues they can begin work at Progress Industries or to meet with Catalyst's employment specialists. From there they may work their way into a competitive employment position at Catalyst's Precise Services or find outside paid work placement with the backing of a Catalyst employment specialist serving as a kind of HR department for the client. At a place like Progress, the client can, for instance, learn how to operate a two-phase machine or get certified to drive a fork lift and, more importantly, acquire an understanding of team work, accountability and upward mobility. If they prove especially adept at certain specialized skills then they might be moved to the embroidery and print shop where they'll learn how to work unsupervised and fulfill orders on demand. Progress isn't just an approximation of work, it is work; work producing real products for real companies in the area.
It's a helping hand that is necessary given some of the barriers Catalyst's clients have at the onset. Vocational Director, Mitch Jacobsen, gives a theoretical example of such barriers, that of a 19 year old, single mom who's dropped out of high school early because she got pregnant. She's low income and on cash assistance and has to overcome multiple barriers before she can even focus on obtaining employment or education; she needs to work through childcare; she needs to work through transportation.
"Sometimes people don't even necessarily know the steps to take to work through these barriers, so you have to take them over to Jobs and Family Service's office and show them, 'ok, this is how to obtain your childcare voucher, these are the approved locations, these are the ones along the bus route so that you can drop them off and get to work,' " says Jacobsen. And even then it's tough, especially since there's a limited number of childcare facilities open during second and third shift– the time slots required for many employees working in the restaurants and manufacturing industries. Jacobsen continues, "almost every single individual whose on cash assistance in this community is participating in a work program or already working. They are what you consider the working poor."
There's also the misconception that an individual can be on cash assistance indefinitely. The limit in many states is five years. In Ohio it's 36 months.What Catalyst strives for is a break in these cycles, a support system strong enough to lift families within our communities above these barriers and to help them find stable, fulfilling lives so they can unleash their potential and talents to the betterment of us all.
What it takes to make a Telethon work is the same thing it takes to make a community work: everyone working together
What Richland County has that works to its advantage is an openness to cooperate and collaborate. Catalyst's partners in the community are as important to its success as every single person who makes a donation, be it $10 or $10,000. Maybe this is the reason why our county is making real headway in an opioid crisis that's placed Ohio as the second worst state in nation for overdose deaths. Mental health is universal. It crosses all boundaries and impacts the lives of everyone no matter their class, race, sex, or creed. And it's to the benefit of everyone that we support one another no matter the differences in our experiences. As Kym Lamb, Board Chair of Richland County Mental Health, Recovery and Addiction Services so eloquently said,
"even if I haven't walked your history, it doesn't mean I don't want to create our future."
So, come out to the Telethon at the Richland Mall, February 2nd for a day of entertainment, activities and excitement. And for the chance to create a better future together!