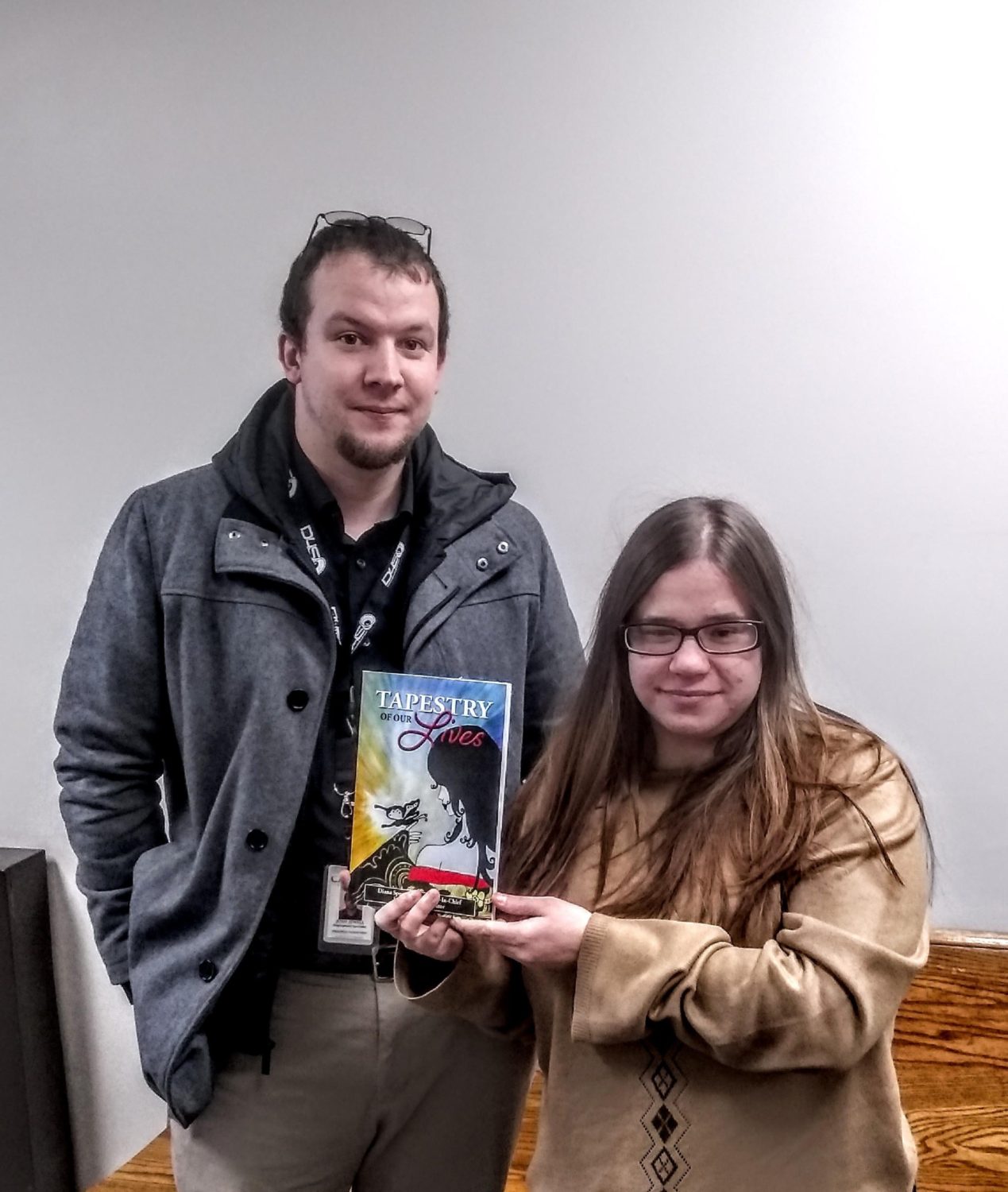 "Josh was there when I didn't have a job. I was looking for
support and trying to open a door to finding a career," said Liz Krivich, a
client of Catalyst Life Services. Josh Jewell has been Liz's Employment Specialist
since September 2018. He has helped find many job opportunities for her.
"She really wanted to work in something artsy or in graphic
design. However, that can be such a hard career to find, especially in Ashland
and Mansfield. After calling several places, we found there were very limited
opportunities and many of the positions were filled with people who had been
there for a long time," said Josh, Employment Specialist.
After Liz and Josh searched, Liz decided to broaden the
search. She needed a job and so she accepted a position at Crystal Care and
then, Buehlers. Although Liz enjoyed both positions, these jobs were still not
in the niche that she desired to be in.
While utilizing the employment services at Catalyst, Liz was
also taking advantage of the counseling services at Catholic Charities in
Ashland. Through this connection and support she found, Pathways Peer Support
Group. This group hosts a biweekly creative writing group that uses writing as
a tool for recovery. Diana Spore, Ph.D., the supervisor of the Pathways Peer
Support Program, helped Liz utilize her writing skills as a means of recovery.
However, art and drawing still remained Liz's main creative process and
passion. Her artistic skill was apparent to the group facilitator and a few
months later Liz had the honor of having her works published in the Anthology, Tapestry of Our Lives.
This book is a compilation of written works created by individuals
in recovery. Liz's drawn works were utilized as setting the theme in the five
different sections of the book. These sections include, Stepping Stones, Reflections,
Within Reach, River of Words and Breaking
the Chains. Each drawn work relates to these sections and perfectly sets
the tone for the words waiting in the pages behind each picture.
 "I am really grateful
for the opportunities and friends I met along the way. I didn't even believe I
was talented enough to go for this." Liz admits. "I want to thank Pathways,
Catalyst and the Mental Health Board."
Liz dreams of expanding on this opportunity. She would love
to find a job that allows her to grow and express her creativity in a way that
inspires and speaks to those who see her designs. Liz and Josh have already got
in touch with Henley Graphics in Loudonville Ohio, who had published, Tapestry of Our Lives.  Although there was not an open position,
there is future potential of a freelance position.
"I am just really proud of Liz. She has come a long way and
I am happy for all she has done," Josh beams.
Liz is full time at Comtex as well as part-time at Buehler's. Although she enjoys it, she is looking forward to the opportunities that may come from the publishing of her art. The struggle of finding a position in this field has also helped Josh, as an employment specialist, realize the need to partner with agencies in this specific area. Josh is prepared to be at her side as they continue to search for these opportunities. But no matter what, Liz's positive and hard-working spirit will continue to push her toward success.