Did you know?
The Catalyst Rehab Telethon first started in 1992 at WMFD TV.  This year is the 30th annual Rehab Telethon! Over these past 29 years we have raised $2,498,016!
---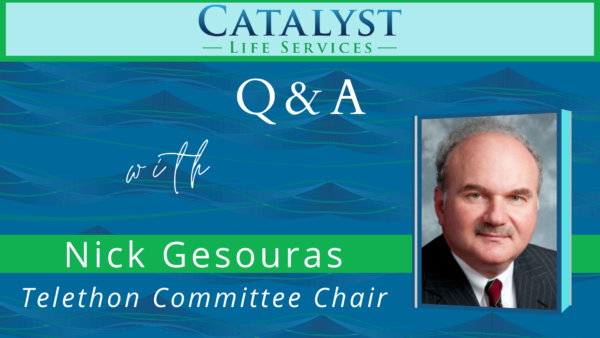 What is your role and how long have you been involved with the Telethon?
This will be the 6th year that I will be serving in the capacity as Chairperson for the Telethon – the last three years and I also had a stint of a similar time frame years before.  In various capacities, be it fundraising, participating as a host and as a donor, I have been part of this event for at least the last fifteen years or so. 
What made you choose to get involved/why are you passionate about this cause?
 Providing critical physical and behavioral healthcare programs for our community has to be our number one priority, as we can bring about positive changes in the lives of so many.  Catalyst Life Services plays a vital role in our area to provide much needed services. 
How is this year different than previous years?
This year is special, it marks the 30th anniversary of this successful event.  This year we will bring the community together virtually to allow for social distancing guidelines set by the state. It's ironic, we are going to a taped, studio setting made possible by the great people at WMFD-TV, just like the first year back in 1992!  We will still have entertainment and check presentations and community guests but it will be handled remotely or in some cases pre-recorded. 
Why is donating to the Telethon more important this year than ever?
The need is ever greater, given the physiological and psychological toll the pandemic is taking on our daily lives.  We hope this event will continue to help fill in the funding gaps for those in need especially this year as mental health concerns and substance use continues to rise during this uncertain time.
Is there anything else you would like to add?
There is no greater feeling in this world than the satisfaction of helping others by giving generously!  We are very appreciative to the longtime donors that have faithfully supported this long-standing event and look forward to attracting new donors this year.
---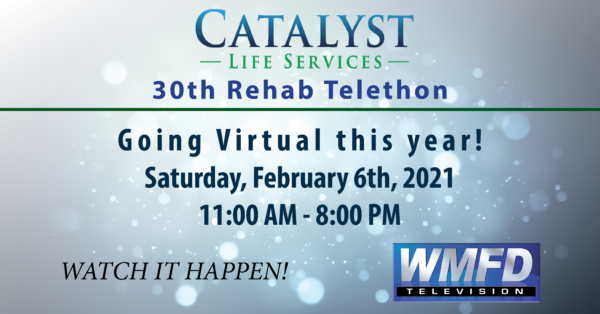 The 30th Annual Catalyst Rehab Telethon is officially set for Saturday, February 6, 2021! Your help is needed now more than ever and we hope to make the 30th Anniversary of the Catalyst Rehab Telethon a great success! Since 1992, the Telethon has helped to ensure that The Rehab Center (now part of Catalyst Life Services) can continue to provide services to individuals in need throughout North Central Ohio. Since we are still in the midst of the COVID-19 pandemic, the decision has been made to eliminate the in person celebration at the Richland Mall this year but will continue the tradition as a televised production so you can still "Watch it Happen" on WMFD-TV all day from 11am -8pm. We will celebrate 30 years of the Catalyst Rehab Telethon and hope you will tune in! We would appreciate if you would keep us in mind as you plan for the year-end and/ or your 2021 charitable giving budget. As the need for our services increases during this uncertain time, your donation will have a huge impact on providing life changing benefits to those in need. You don't have to wait until the Telethon – your contribution in any amount would be very appreciated. For your convenience, you may donate online by visiting www.catalystlifeservices.org/donate/.
Please contact Melissa Drozda at 419-774-6710 with any questions or if you would like to know about sponsorship opportunities!
---
A Catalyst Success
---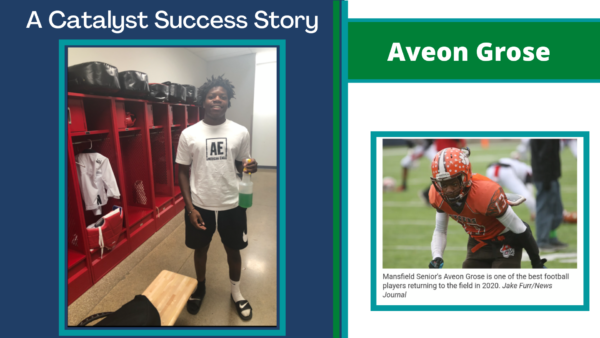 "Aveon is going to accomplish great things in life, especially with his mindset and determination. There is nothing he cannot do!" shares Employee Specialist, Taylor Salisbury. Taylor has been Aveon's Employment Specialist since November 2019. She has helped to find several job opportunities for him and has continued to remind him of the great potential his future holds.

    Aveon Grose is a client of Catalyst Life Services and started in the WIOA Program in June of 2019. He started the program with a mindset of wanting to better himself. Although he was only 15, we wanted to get a head start and learn how to earn and manage his own money.

    "The WIOA program has opened me up to new opportunities, pushed me forward and helped prepare me for the future,"Aveon says.

    Taylor Salisbury has worked to place Aveon on a worksite that would best fit his skills and interests. Aveon is currently working at the WIOA site: Black Belt Pro Fitness, a martial arts and fitness center. During the summer, Aveon participated in the Taekwondo program as a counselor. In this position, he taught young students the basics of Taekwondo. This experience helped him to look at things differently and he found himself working harder than he had before.

Aveon is now 16 and will be going into his junior year this school year. He has already been offered several college scholarships for football. Aveon shares that he is still considering these different college offers, but knows, no matter where he ends up, he will become a physical therapist. He desires to help other athletes and possibly act in the role of a Trainer.

    Aveon is currently in Driver's Education, working to obtain his driver's license. His schedule is also filled with football practices and games as well as track and basketball. Although his load is heavy, he has still managed to receive satisfactory grades in his high school classes. He also continues to meet with his employee specialist, Taylor Salisbury to stay on track to reach his goals.

    Aveon shares that the WIOA program has helped to shape and prepare him for the future. For those students who share the same desire as Aveon and want more for themselves, he encourages them to be the best they can be.
    "Continue to wake up every day, keep working and strive for better things," Aveon says encouragingly.

    No matter what the future holds for Aveon, his determination and hard-work are bound to push him toward success and endless potential. And for those around him, may they see his example, believe in themselves and work for their dreams.
---
Holiday Tips
---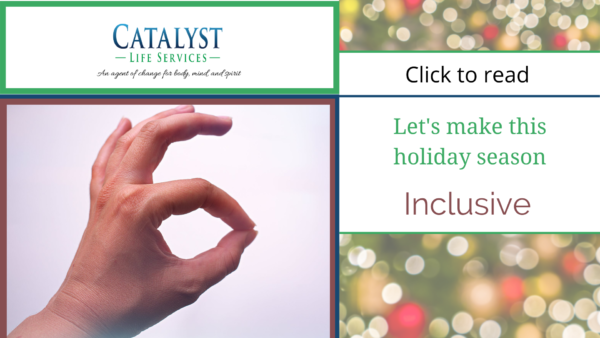 Click the image above to hear from the Director of Deaf and Hard-of-Hearing Services, Tanya Haga. She shares many tips on how to gather safely for the holidays and better include individuals with hearing loss.
---
Helping Kids Cope with the Holidays During a Pandemic
---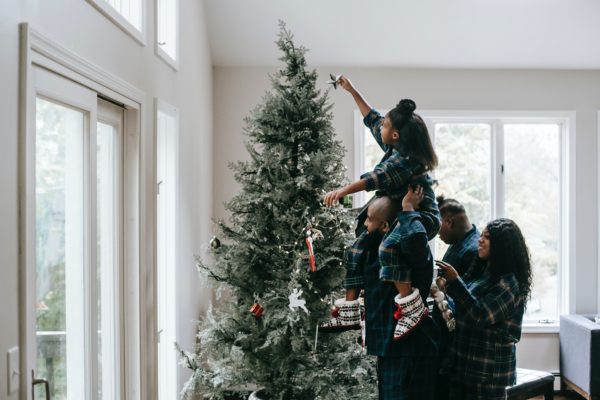 This has definitely been a strange and stressful year for kids and families. The upcoming holidays are likely to be particularly challenging. Here are a few thoughts and suggestions:


1. Make your plans in advance, if possible, and tell your kids what's happening, when and why. Kids can adjust to lots of changes, but uncertainty and indecision increases stress and anxiety.

2. Try and retain as many traditions as possible, even if in a modified form. Make an extra effort to connect by phone, Zoom or FaceTime with friends and relatives you'd normally see.

3. Consider cooking familiar dishes from past celebrations.

4. Make sure kids understand why this year is different and why people aren't traveling as much as usual. Gear your explanations to their age and developmental level using words and concepts they can understand.

5. If kids get moody or frustrated, acknowledge their feelings in an open, honest and consistent manner. Let them know that lots of people are working hard to bring the pandemic to an end as quickly as possible and that they will be able to travel for the holidays and visit relatives at some time in the future.

*Tips created by David Fassler, MD, American Academy of Child & Adolescent Psychiatry.
---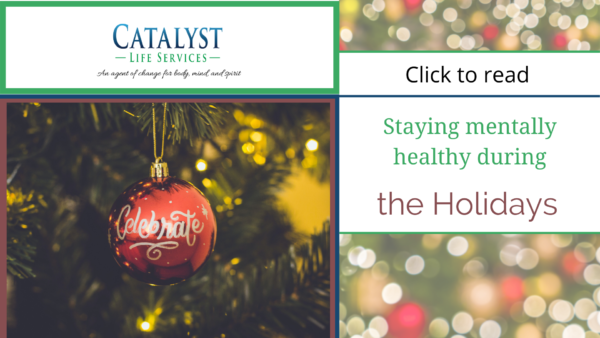 The Executive Director, Erin Schaefer, shares some tips on how to stay mentally healthy during the holidays which can be a very stressful time for many.

*To find out more about help and hope for the holidays you can view a video created by the KnowitB4uneedit Campaign HERE.
---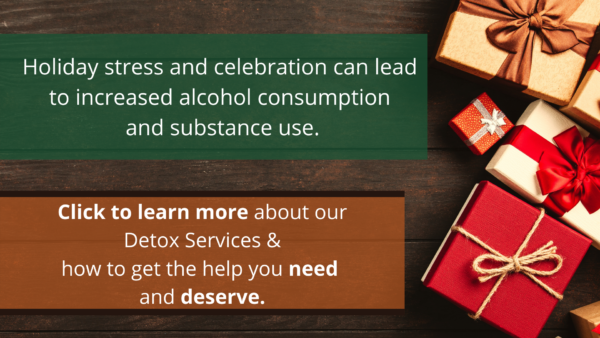 ---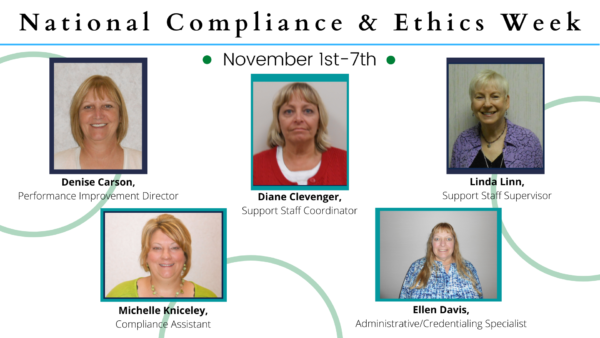 "This group works together as a team to oversee compliance areas at the agency. I would like to express my sincere appreciation for all that they do!"
– Denise Carson, Performance Improvement Director, Catalyst Life Services
---
Community Support
---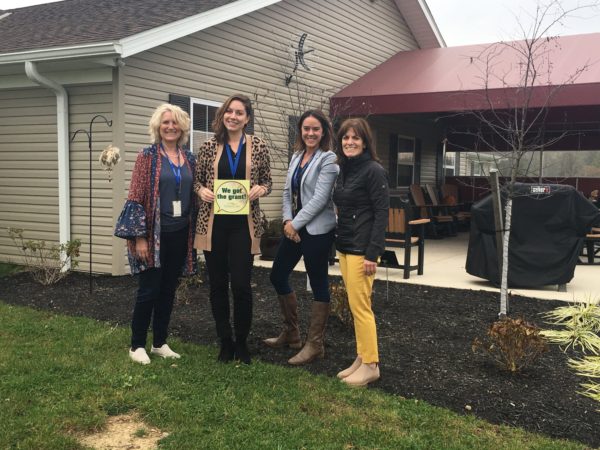 Thank you to the Women's Fund for supporting our Women's Residential Treatment Program. Support for this program was provided by a grant from the Richland County Foundation. The mission of the Richland County Foundation is to improve and enhance the quality of life in Richland County through strategic philanthropy and community leadership.
Additionally we would like to thank the following individuals:
Norm Shoemaker and Carl Neutzling on behalf of the Mid Ohio Area Labor Council AFL-CIO, for their donation of 2 picnic tables.
Jai Merina for her donation of 2 picnic tables.
Kyle Bierly for her donation of new heavy duty bird feeders and bird seed.
---
Eat for the Cause
---
Mark your calendar for Saturday, December 5th, 4-8pm!
By eating at Chipotle, you can support our cause!
Simply show them a virtual or paper copy of the flyer below or simply mention you are eating to support Catalyst Life Services! We will receive 33% of the proceeds!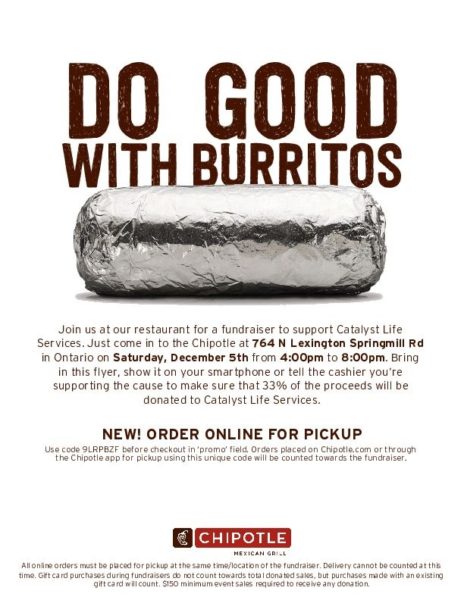 ---
Mark your Calendars!
---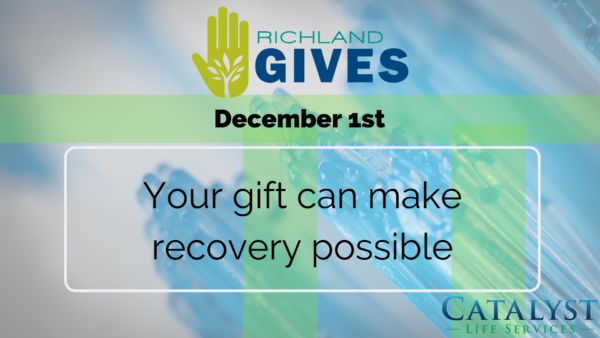 Richland Gives is a time of community collaboration as individuals and businesses come together to support the mission and work of Richland County non-profits.
You can view our page and donate to Catalyst Life Services HERE.